Planning Your Trip
Due to Japan's mountains and surrounding warm seas, it has a very diverse and varying climate. If you are adverse to tropical conditions then its best to avoid Japan in summertime and perhaps plan your trip for spring instead. Japanese spring is renowned for its stunningly encapsulating cherry blossoms, which burst into vibrant life at this time of year. Booked in advance, flights to Tokyo from the UK can cost around six hundred pounds (a bargain for a fifteen hour flight!) whilst if left until around two months before they can increase to around one thousand.

Once flights have been booked you need to consider other transport such as the train, coach, or perhaps visit jetparks.co.uk and find cheap airport parking for the duration of your exciting adventure – or at least so you can be dropped off and waved off at the gate.
With all this covered, and due to the fact that Japan requires no necessary vaccinations or jabs, you're set to go!
Where to go
Many will head straight for Tokyo, which boasts some of the world's most ambitious architecture and technology, as well as bizarrely themed shops, hotels, cafes and other amenities. Tokyo also offers temples, shrines and imperial gardens however these are most prominent in the former imperial city and thriving cultural centre of Kyoto.

Nearby neighbour Nara offers unrivalled venerable monuments, most notably the great bronze Buddha of Tōdai-ji. In Kobe, one can sample the infamous Kobe beef, so notorious due to the cattle being smothered and fed with sake or beer- a method they believe tenderises the meat.
Finally, for those who wish to steer a little off the beaten tourist track, Shikoku Island offers dramatic scenery in the Iya valley and along its rugged coastline and a taste of traditional Japan which cannot be found elsewhere.
Food and Drink
Grab your chopsticks and ready yourself for some of the most exquisite food in the world – unparalleled in flavour and presentation. Aside from the archetypal dishes of sushi, sashimi, tempura and gyoza, Japanese cuisine has so much to offer, with Tokyo, Kyoto and Ōsaka major destinations for foodies. In most Japanese restaurants, you can expect to be served all your dishes at once; although if opting for more high-end dining, soup and rice will be served last.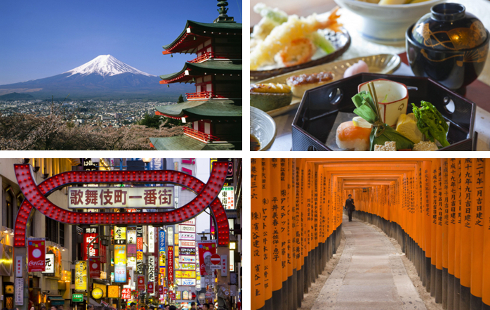 Accommodation
It is best to have your first few nights in Japan pre-booked – particularly if you are on a budget. Truly cheap accommodation, especially in the capital, is scarce and its best to plan ahead to avoid being caught out by extortionate prices. A night in a traditional Japanese inn, or "ryokan", is one of the highlights of a visit to Japan and generally more affordable than most hotels and hostels; on average these can cost around 8000 Yen. There is a range of other differing styles of accommodation from a multitude of hotels to mountain huts, camp sites to hostels, all dependent upon your financial budget.
Don't miss…
The Japanese are renowned for their festivals and carnivals so be sure not to miss one if it coincides with your trip. Spring sees the tranquil 'Hana Matsuri' (April 8) festival celebrating the birthday of Buddha, the 'Aoi Matsuri' on the 15th of May (a costume parade through the streets of Kyoto, with ceremonies to ward off storms and earthquakes) as well as many, many more.
Summer, on the other hand, brings the 'Gion Matsuri' on the 17th of July. This is Kyoto's month-long festival, which focuses around a parade of huge floats hung with rich silks and paper lanterns. Perhaps one of the largest festival processions of the summer is the 'Awa Odori' between August 12th and 15th. This most famous Bon odori takes place in Tokushima, when up to eighty thousand dancers take to the streets. A festival will, quite literally, make your Japanese adventure as you are immersed in to one of the most beautiful cultures in the world.