Traveling and driving for thousands of kilometers have gone hand in hand for me for quite a while now. It all started with a New Year's trip to Istanbul back in 2007. Ever since then I have been jumping into the car and heading to my distant destination as often as possible. In most cases, getting there involved being behind the wheel for hours and hours and having the misfortune of being the only driver in the group.
I drove to Athens, I went to Istanbul again, I drove to Oludeniz, far on the Eastern Mediterranean seaside, I drove for about a month around Europe and I plan to drive some more. This of course does not include the occasional road trips I take around Romania or the odd weekend getaway in neighboring Bulgaria, but such shorter drives are also part of my travel experience.
If I could, I'd drive around the world. Sure, I'd have to get my little car on ferries and bigger boats here and there, but a car is my preferred way of travel when the time permits. It's the easiest way to go wherever you want without needing to plan ahead. No tickets to book, no worrying about how much your luggage weighs, no restrictions on the size of your pet, and the benefits keep on pouring. I love the idea of freedom a car gives you – stay for as long as you want, go when you feel like it, take a break when the mood strikes.
You'd think I am this carefree driver, but I know for sure I am a bit of a pain. I hate unnecessary stops, I need to be efficient! We stop, we use the toilet, we get drinks and food and we keep on going. We don't linger about sharing stories, we need to be somewhere! While I enjoy the views and the general feeling of being on the road, I won't spend a minute more in the car than I absolutely have to!
Wonder why? Well, it's mostly because I ended up being the only driver so many times! You want to get it all out of the way so that you don't end up exhausted and manage to enjoy your trip along with the rest of your group. I do manage to relax a bit when there's another driver, but my core driving persona remains the same. (Just between us, I also blame a couple of bus trips where we spent more on breaks than driving because of annoying people).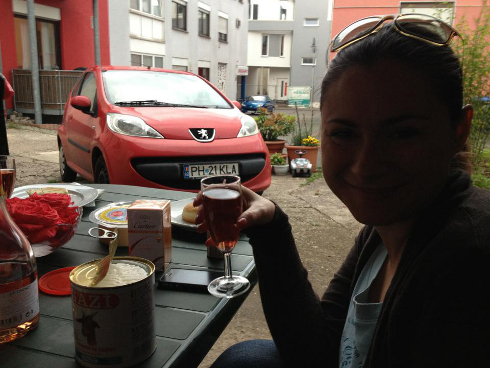 So, before I get carried away, here are a few important lessons I've eventually (hopefully) learned along the years:
1. Rest well before you leave!
This one is still a work in progress. Up to now, I managed to leave straight after work (got up at 6 am, packed my bags, went to the office, left at 3pm, started the long drive to Oludeniz, arrived the next evening at around 10 pm), or very early in the morning (2am) after failing to fall asleep properly because of the excitement.
2. Plan for delays
Traffic jams, repair works, being too tired and needing more breaks, car sickness, a lot of things can go wrong. You don't need a crisis management strategy, but planning means being ready for it. Otherwise, you get pissed, not just delayed. A lot of stuff happens along the way, the best idea is to laugh about it.
[adsense]
3. The more (drivers), the merrier
There's a time for solo driving, and there's a time to share the experience with a group. And whenever you need to drive for 14 hours in a day, not being the only driver is absolute bliss. After a month and 7,500 kilometers, I can wholeheartedly say that the most fun I had was while driving through the UK and than back all the way to Romania because I shared the trip and the driving with my friend Alexandra. When there aren't more drivers, more passengers is also fun. You can have someone else keep an eye on signs, maps, the next gas station and so on.
4. Avoid driving for more than 12 hours per day
I know, I know, you might think you can pull off more. And you probably can. But you'll still be exhausted when you get to your destination. When returning from Oludeniz, I split the 18 hour drive into 9 hours from Oludeniz to Chanakkale and another 10 from there to Bucharest. Other than visiting the city that houses a wooden Trojan horse that's been used in the movies, eating exquisite lentil soup and running into people I knew and haven't seen in years at the hotel we were staying at, I enjoyed myself more and I wasn't dead to the world the moment I got out of the car in Bucharest. Huge difference from sleeping for 14 hours straight and still being exhausted on my way to the destination.
5. Make sure you don't forget your music at home!
If you like listening to music when you drive, make sure to bring your own! Don't rely on the local radio stations. It might turn out to be a losing bet when you're crossing mountains. Or, as it happened for me, when you drive through a certain country. It was a nightmare for me to find a decent radio station while in Germany, for example. Austria wasn't a lot better either, but it was at least decent. The UK, the Netherlands and Hungary compensated though! I currently use my iPhone to store music for the road, but, just in case, I also make sure I have a few CDs I like in the car at all times.
6. Don't worry too much!
Just before going to the UK, everyone I knew reminded me to drive on the right (left) side of the road. On the ferry from Dunkerque to Dover, I kept thinking about it and I was already stressed out when I arrived on the British shore. The truth is everything was built in a way that would naturally lead you to the correct side of the road.
The same happened with finding hotels at my destination (in my pre-GPS days), but there are always people willing to help you out! Both in Greece and Turkey, extremely nice strangers went out of their way to help us get to where we wanted to.
Over to you!
Do you do a lot of driving while traveling? Do you like it? What are your thoughts on this travel option and what would you advise others to pay attention to?