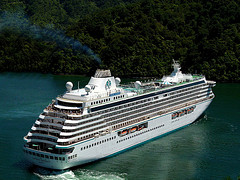 Cruise giant Carnival will once again come to Europe om 2012 with a new ship, currently under construction. The announcement was made by Carnival President and CEO Gerry Cahill while introducing the company's newest vessel, the Carnival Magic, a cruise ship acommodating 3,690 passenger.
The line's ship that will be located in Europe, Carnival Breeze, will debut next spring. In the same class as Carnival Magic and featuring the same capacity, the Carnival Breeze is currently in the making at the Fincantieri shipyard near Trieste, Italy. According to Cahil, Carnival will maintain its primary focus on Caribbean cruises, while seasoning its cruise options with the occasional off-the-beaten-path voyages.
"A lot of our past guests are looking for new things," Cahill said, but explained that, unlike its competitors, Carnival will never strive to become a big player in the European cruise market. "You'll never see Carnival sending 12 ships to Europe or something like that.I feel pretty comfortable when we have one ship in (the Europe) market. I probably would not feel so comfortable if we had more than one ship in Europe."
Cahill's statement relates to an earlier announcement made in mid-March by competitor Celebrity Cruises who announced adding 5 more ships to its European fleet. Â Cruise line Norwegian had already announced two new ships focusing on Mediterranean itineraries since December 2010.
[adsense]
If we consider CruiseCritic's top of cruise destinations for 2011, Carnival competitors are betting on more attractive destinations, as the Mediterranean, Northern Europe and European Rivers rank higher in the top than the Caribbean, which is the last in the list of 10 most popular destinations by boat.