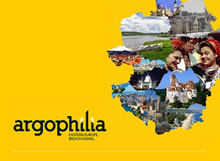 Argophilia Travel News has just been officially launched with a clear purpose – spotlighting the culture and spirituality of Eastern Europe by bringing fresh travel news to readers around the world. While the region is filled with historical, cultural and entertainment gems which would be much enjoyed by travelers from around the world, not much is really visible outside the Eastern European region.
Argophilia Travel News is the first International news medium with a declared focus on this vital region of the world, spicing the information up with occasional  world travel news. The travel news site will also act as the social media arm of the parent travel portal, Argophilia, a startup whose development was sparked by the knowledge that Eastern Europe is a highly underprivileged travel segment, the main cause being the lack of quality information and local news. Argophilia Travel News will focus on "providing a genuine perspective of the world where Argo once sailed in the quest for the golden fleece."
"Eastern Europe's most exciting attractions are off the beaten path. With people on the ground, Argophilia will open a world unseen before. Expect the unexpected: currently in private alpha, Argophilia will launch in public beta mid 2011. Please consult the attached multimedia materials for additional information," explains the official release.
Certainly lacking the international spotlights, Eastern Europe is not a region to ignore. A 2010 report from the World Travel & Tourism Council revealed that Central & Eastern Europe travel and tourism will generate over $248 billion in economic activity (GDP) this year alone.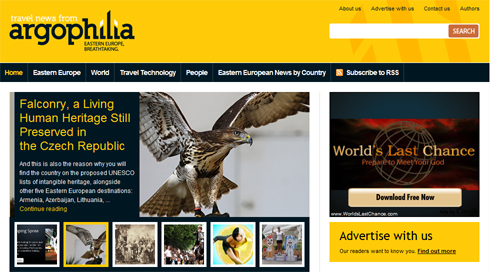 Providing regional breaking news, cultural and historical editorial, rich media, and innovative social opportunities, the Argophilia Travel News service is dedicated to fostering accelerated regional growth.
"We want to show the world that Eastern Europe is a beautiful, exciting and multi-cultural travel destination. Beyond prejudice, most of the countries in this part of the world are safe, and can be as rewarding to visit as any other popular destination worldwide, if not more so. We've made it our mission to give a voice to the unheard from. This is the power of the Internet after all, " said Argophilia CEO and Pamil Visions PR Principal Phil Butler.
Yours truly will also be a part of Argophilia's editorial team. For starters, I will mostly cover Romanian tourist attractions, from the trendy urban spots to hidden natural gems so stay tuned!
Argophilia is a privately owned travel startup under development by the principals at Pamil Visions PR, and independent experts in the European creative and technology community. The company's goal is to be the premier provider of online travel information, tools and services in the region.