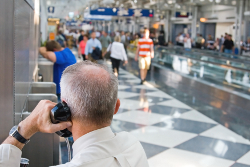 Whenever I hear about something to do in airports, I get all excited. I am the kind of traveler that till has at least one hour to kill after checking in the luggage, going through customs and finding the boarding gate. I usually bring along my Kindle and my laptop and my smartphone and an old fashioned notebook just to keep busy for the two hours that I have to spend waiting to get on the plane.
Of course I jumped at the opportunity of sharing  this bit of news with you – some US and Canadian airports are expanding their retail areas, which means more shopping before or in between flights! The idea is to add high-end shopping options which are set up in a way that makes airports look like lively town centers. What's even better is that shopping is expanding beyond the quite popular duty-free zone. That means that if you're not an international traveler, you'll get the same opportunities of spending too much money on stuff you may or may not need. 
Denver International Airport will get a complete make over for its food and beverage and retail spaces which will take about three years. They will keep adding mixed-use developments built with shops, restaurants, offices and residences over the next two decades. You read it right, decades of developing to keep you entertained while at the airport. You'll shop, enjoy a meal, do a little business and even move in if you have to. 
Los Angeles International Airport already takes pride in its brand new Bradley West International Terminal that boasts 60 new food and luxury retail establishments and a Great Hall for air travelers to mingle. To catch up, Dallas/Fort Worth International Airport will add 50% more space for retailers in its Terminal A, all expected to be ready by the end of February 2013.
[adsense]
Vancouver International Airport skipped the adding bits of retail space to a terminal or opening a new one. Instead, the airport is developing an entire stand-alone outlet mall right next to it, which will be ready to welcome travelers in 2014.
Other than keeping passengers entertained, by adding more space to rent out to retailers, airports are also maximizing the value of the land they are built on. This might be quite a good strategy to compensate the lowering rental fees they charge air carriers.
With revenue for concessions, including food, beverage and retail, reaching $1.51 billion in 2011, a 12% year-on-year growth from 2010, it seems like the winning strategy. According to the industry group Airports Council International-North America, 40% of the amount was generated by retail spending. 
This new developments will bring US and Canadian airports closer to what Asian and European counterparts are already providing – a place of entertainment and quite a haven for shopping.
In other words, travelers, make sure you bring the right luggage with you, to have where to stuff all the things you'll buy!