Sometimes you just need to escape from your everyday life. Not just to sit in the sun by the pool somewhere, but to really get away from wifi and work emails and posting new pictures of yourself by the pool to prove you really are enjoying your holiday; somewhere where you can forget about the rest of the world and live in the moment.
Here are five ideas for your next real escape.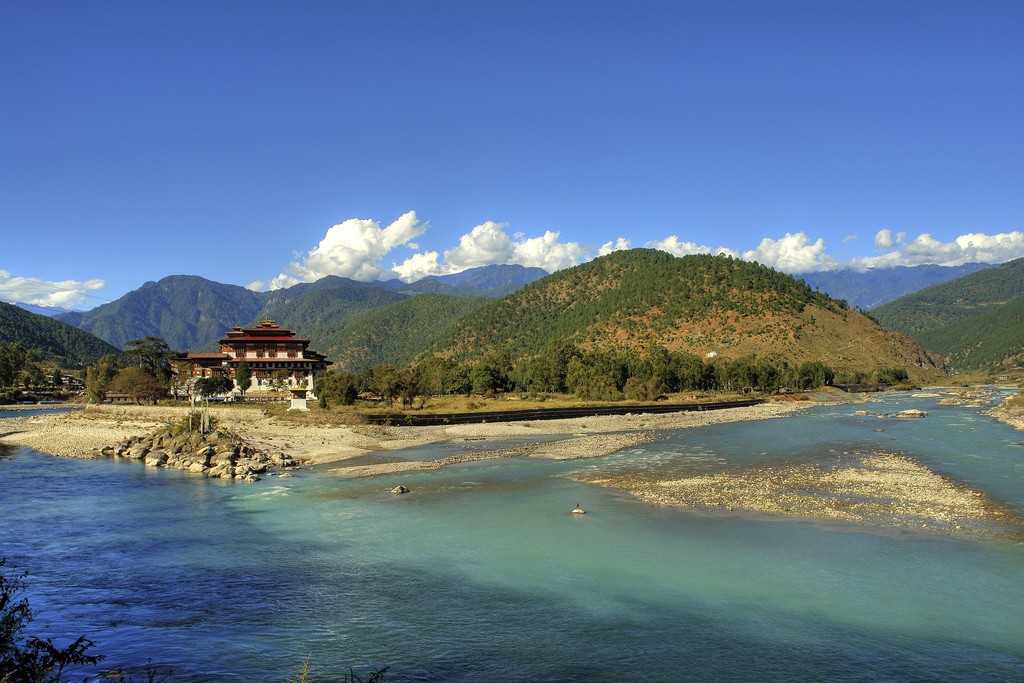 Dzong of Punakha, Bhutan by Marina & Enrique
Bhutan
A Buddhist country, Bhutan is tiny and remote, nestled in the Himalayas. It has been almost completely cut off from the outside world for centuries. Extremely proud of their ancient culture and traditions, the country only began to open up to outsiders forty years ago. Tourism is restricted, and so you can only visit the country through a prearranged package or tour. In Bhutan, the rice is red, there are monasteries everywhere, and the mountains are covered in rhododendrons.
Guyana
Sat on the Caribbean coast of South America, Guyana holds a real opportunity to leave your life behind and embark on adventure. With a joyful people, a Caribbean-meets-Amazonian feel and incredible wildlife, this country isn't the wealthiest, but it certainly makes up for it in other ways. This is the landscape that inspired Arthur Conan Doyle's The Lost World, where you can explore high plateaus and waterfalls.
Antarctica
If there's one place where you won't find internet cafes or phone signal, it's Antarctica. With stunning landscapes and whales, penguins and seals to keep you occupied, you won't even miss the internet. Go exploring on a kayak, trek across the continent, or if you're feeling brave, you could even go scuba diving to discover a whole new world under the icy water.
Nicaragua
Also in South America, Nicaragua is the largest country on the continent. Filled with natural beauty, excellent surfing, and warm, friendly people, Nicaragua is the place to go for a relaxed getaway. Go to Granada for the Spanish architecture, or visit Ometepe Island to hike up a volcano. If you're looking for adventure, try volcano boarding!
Norway
Stay away from the cities and towns and you'll find stunning uninhabited Nordic countryside. If mountaineering, fishing and hiking are your bag, then this is the place for you. Head to Tromso for a chance to see the Northern Lights, or to Svalbard for polar bears, Arctic foxes and mountains.  Stay in an electricity-free cabin with all the right creature comforts and explore glaciers to your heart's content.